Murphy ASM170 Engine Controls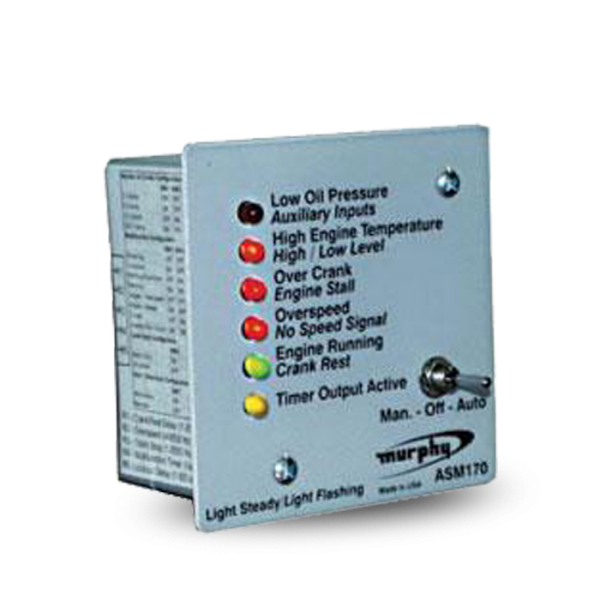 Specifications

Specifications

Power Input: 6 to 28 VDC.

Power Consumption Standby: <1 mA.

Operating Temperature: -40 to 185 °F (-40 to +85 °C).

Inputs: Ground or positive inputs for high temperature, low oil pressure, High/Low Level, Auxiliary/Remote Stop sensors.

Lamp Test: When unit is powered up in Manual or Auto, the LED's light for 1 second as a test.

Outputs: 5A smart FET for cranking and multifunction output. 10A smart FET for Fuel Valve (Energized to Run) output. All 3 supply battery "+". 125 mA transistor for common failure, engine run, and auxiliary output. (Sink to battery "–")

Crank Attempts: Selectable for 3, 5, 10, or 255.

Crank/Rest Cycle Timing: Field adjustable 1 to 30 seconds.

Multifunction Output: Field programmable to one of the following options: Glowplug, Cooldown, Warmup/Cooldown, Warmup, Air gate – Overspeed Only, Air gate – Always, Choke, or Auxiliary Run output.

Shutdown Lockout Time Delay: Field adjustable 1 to 300 seconds. Locks out low oil pressure, high temperature, and loss of speed shutdowns on start-up.

Crank Disconnect Speed Setting: From 13 to 2500 Hz.

Overspeed Trip Point Setting: From 13 to 8500 Hz.

Speed Sensing Input: 1.5VAC RMS to 140 VAC RMS.