Murphy Cascade Engine Controls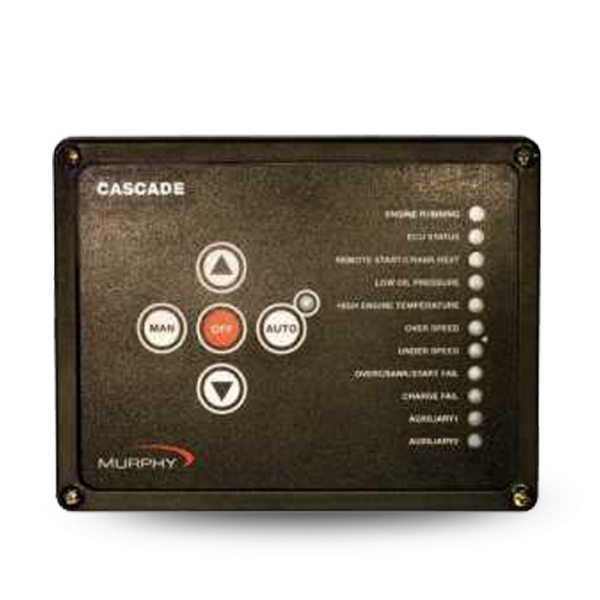 Specifications

Specifications

Power input: 9-35VDC continuous - operates during total blackout for 2 seconds minimum.

Power consumption: Sleep Mode (Manual): 1mA typical; Sleep Mode (Automatic): 4mA typical.

Running Mode (Manual): 20mA typical; Running

Mode (Automatic): 24mA typical.

Operating/Storage temperature: -40 to 85°C; (-40 to 185°F).

Humidity: 0-100%, non-condensing.

Housing: UV stabilized black polycarbonate and epoxy encapsulation. Weather tight and includes sealing gasket to keep moisture and debris out of enclosure. Properly mounted controller will maintain NEMA4 / IP65 rating of enclosure.

Vibration: Rated to 6G.

Impact: Rated to 10G.

Inputs: Dedicated digital inputs for low oil pressure, high engine temperature, remote start, DC charge fail/Alternator fail. Two aux inputs are configurable for multiple functions.

Outputs: 7 – 4 auxiliary, configurable (1A DC protected). 3 dedicated outputs for Crank, Fuel/ECU, Alternator excitation.

Crank attempts: 3, 5, 10, Continuous.

Crank Rest: 5-60 seconds, adjustable.

Shutdown lockout time delay: 5, 10, 15, 20, 25, 30 seconds.

Crank disconnect speed setting: Field settable 0-9999 RPM (16-60Hz AC freq input).

Overspeed/underspeed trip point setting: ±5 to 50% of nominal.

Speed sensing inputs: Magnetic pickup (5-120VAC RMS / 0-10 kHz) & AC frequency (30-600VAC RMS / 16-80 Hz).

CANbus interface: Directly reads engine speed, & engine status data* from SAE-J1939 enabled engines.

MODbus interface: In J1939 applications drives PVA series analog gages.