OEM Remanufacturing & National Service Programs
Our remanufacturing and national service programs operate as an extension of the OEM, working with you to design programs that augment your in-house capabilities, provide quick, quality repair solutions that ultimately enhance customer service and drive aftermarket parts and service sales back to you, the OEM.

Successful OEM programs require quality far beyond assembly-line standards. At Palmer Johnson, we set our own standards, often going beyond what is expected by our OEM partners. It's the years of experience on the shop floor and the passion for learning and improvement in our technicians that separate us. Our team routinely attends factory-based service schools, then builds this knowledge into our own rigorous service training program. Our technicians truly make us who we are, and ultimately drive the success of these programs.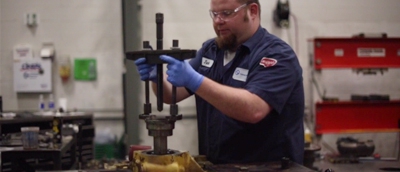 Disassembly & Diagnose
Our technicians completely disassemble each unit with meticulous detail, cleaning and carefully inspecting for any signs of problem or possible wear. We put extra time into our teardown, cleaning and inspection process. This attention pays off later in the reduction of turn-around time and higher quality. Internal parts that do not comply with the manufacturer's specs or do not meet our requirement are either replaced or machined per our customer's approval. We also conduct a failure analysis report for each unit with pictures to help identify problems and clarify solutions.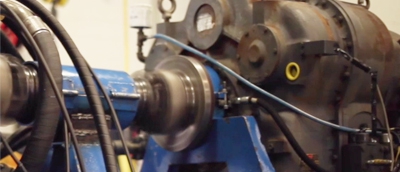 Assembly & Test
Each transmission and axle is assembled adhering to our rigorous build-up standards. Our technicians take pride in this process and have confidence in the work they do. This attention to detail is why our reman units don't fail. We only use 100% genuine replacement parts and build all units to the manufacturer's specifications. By the time a reman unit hits one of our test stands, it is believed to be ready to go. We test to give our customers peace of mind, but our job is done. Put simply, quality is built into the process. Still, we test each unit to OEM and our own standards, then record and report all test data to verify each reman unit meets or exceeds OEM specs.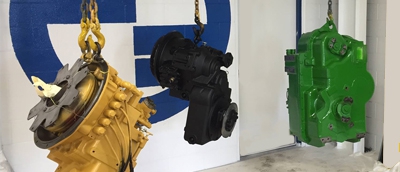 Paint & Shipping
Finally, each unit receives an OEM factory paint finish from our on-site downdraft paint facility. Palmer Johnson's onsite machine shop builds custom shipping racks to ensure damage free transport of all reman units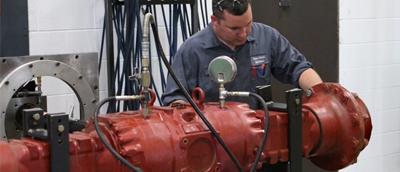 Program Growth
Following program start-up and launch we focus on building relationships and spreading the word. Working with you, your dealers and/or end users to manage and grow the program.